You can add a fee to your bookings or purchases, and set if it only applies to bookings made online by customers, or also to bookings created from your dashboard.
You can set up the fee as a tax in Settings>Taxes. When you set up a tax, you can customize its name.
To set up a booking fee, in the tax settings:
1. From the Type dropdown menu, select booking fee [1]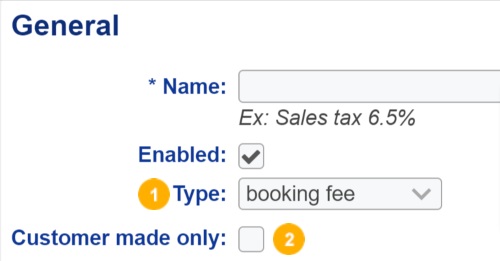 2. If you want to apply the tax only to bookings or purchases made by customers online, tick the Customer made only [2] checkbox.
If you do not tick that checkbox, the tax will also apply to bookings created by account users from the dashboard.