Bookeo lets you attach a vCalendar event to the booking confirmation email sent to customers, so that they can add the event to their own calendar in one click. The event request will be shown if the recipient mail client supports calendar invitations (such as Gmail).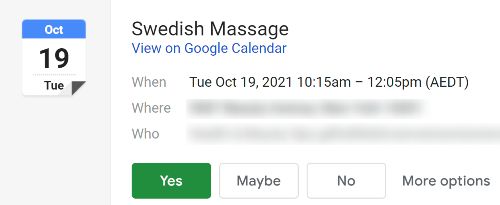 In this article:
---
Enable the calendar event feature
If you want to enable this feature:
1. Go to Settings>Booking preferences
2. Go to the Attach event to confirmation message section.
3. Tick the Attach event to confirmation message checkbox.
4. Save
vCalendar event timezone
The vCalendar event automatically converts the time of the booking to the Calendar timezone of your customers.
If your customers live in a timezone(s) different from yours, the time of the appointment will be automatically converted from their Calendars. This could create inconvenience to you and to your customers.
---
What happens when customers make a booking and this feature is enabled?
When customers make a booking:
1. They will receive a booking email confirmation with a VCalendar event invitation.
Recurring bookings and Courses
For recurring bookings, the system will send one calendar event for each booked date.
For courses where
one booking is created for each class booked
, the system will send one calendar event for each class in the course.
2. They can click on the Yes link (or accept the event) to add it to their own calendar.