Bookeo offers a mobile interface. Bookeo will automatically detect mobile devices and show an interface specifically designed for the device's capabilities and screen size.

For the admin interface, all functions that are available from a desktop/laptop are also available from smartphones/tablets. You can manage your business whether you're at your desk or on the go.

Your customers can make and change bookings, check their profile, enroll in memberships, and much more, all from their smartphone and tablet devices.
In this article:
---
How does the mobile interface work?
Bookeo will automatically detect the mobile device you are using and will show an interface specifically designed for the device's capabilities and screen size.

You won't have to install a special app and you won't have to install new versions of the mobile interface - we will take care of system upgrades.
---
Where can I download your app for the admin interface?
You don't have to download the mobile interface. You can simply visit Bookeo Sign in page https://signin.bookeo.com from your mobile device and add it to your Home Screen.
---
Do I need to log into my Bookeo account every time?
If you want to access your Bookeo Calendar without having to enter your username and password every time, consider ticking the Stay signed in checkbox in the Sign in screen. This will keep you signed in for one week. When you're signed in, you can access your Bookeo account with just one click at any time - just click the Bookeo app icon on your device's Home screen.
Cyber security
We recommend that you use this function only on your own device, and only if a screen lock (PIN, gesture, fingerprint, etc) is in place.
---
Can I add Bookeo to my phone/tablet screen?
The first time you visit Bookeo Sign in page using your mobile device, you will be asked if you want to add Bookeo to your device Home Screen.

If you forget to add it, don't worry. You will simply have to follow the instructions below:
---
iPads and iPhones
1. In Safari, visit signin.bookeo.com, then touch the Share button on the menu bar.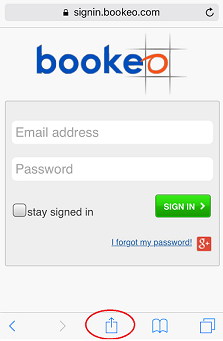 2. On the popup menu, click on the Add to Home Screen option.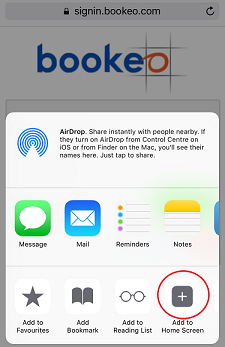 3. The Bookeo icon will show. Click on the Add button.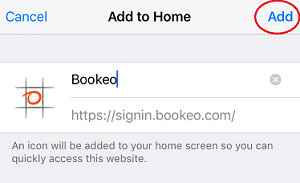 4. You'll return to the home screen, which is now showing the new Bookeo icon.
---
Android tablets and phones
1. Open the browser on your Android smartphone or tablet and go to signin.bookeo.com

2. Hit the Settings [1] button – it's three vertical dots, locating in the top/bottom right of the screen.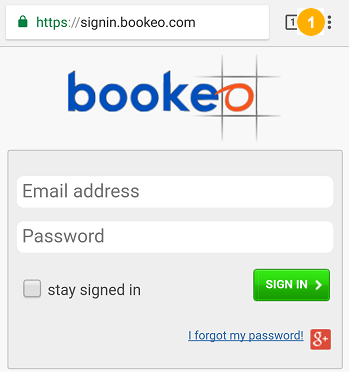 3. Click on Add to Home screen [2]. A pop up window will open.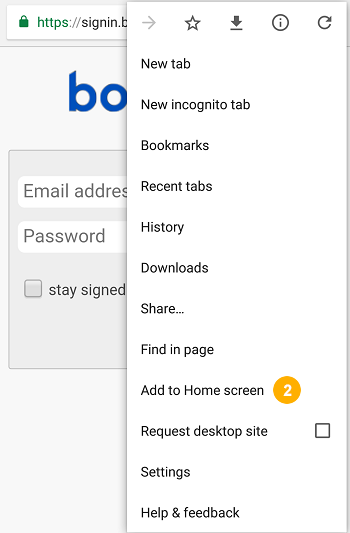 4. If you wish, edit the name of the page [3], then click on ADD [4]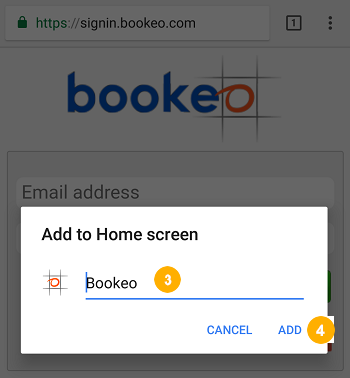 5. Click OK [5] to add Bookeo to your Home screen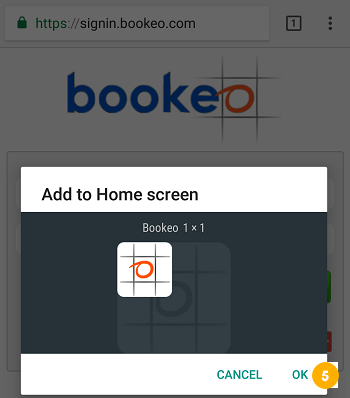 6. The Home screen in Android devices can have multiple pages. If the Home page is full of icons, and you add a new icon, the icon will show in the first page with a free spot. Try swiping left and right your home page to see other pages. You can rearrange icons to place them in your preferred position.