Adding services to your booking page is very easy!
What kind of service can I set up in my Bookeo Appointments account?
Standard services: simple services, such as a service with a duration of 1 hour. For more information click here.

Combined Services: offer multiple services in one appointment. For instance, a beauty salon may offer waxing services, and customers can choose leg, under arm, upper lip, Brazilian waxing, or a combination of them. Click here to see our tutorial.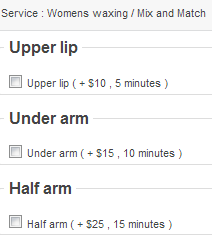 Services priced by the hour: when you offer a service priced by the hour, customers can select the number of hours they want to book, for example, a service @ $25/hr, and customers can book minimum 1 hour, maximum 8. Click here for detailed instructions.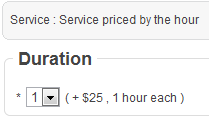 Once you have set up your services, you can also set up:
Service categories: group your services into categories, for easier navigation by customers. See more information here.
Automatic gap between appointments, that Bookeo will leave before and after your appointments. For example, a 30 minutes gap between your appointments, to clean up and get ready for your next customer. Click here to see our tutorial.
Customize time resolution for you and your customers. For example, you can set that your customers can only make bookings with a 30 minutes time resolution, that is at 9.00am, 9.30am, 10am and so on. Click here.
Customize the availability of each service: for example if you have service with a duration of 45 minutes, and you want that appointments for it only start on the hour (9AM, 10AM, etc). Click here.