Gift vouchers are an original and appreciated gift for most occasions. Gift vouchers bought online are also great as last-minute gifts, when brick and mortar shops are closed.
In this article:
---
What types of vouchers can I sell?
You can sell two types of gift vouchers with Bookeo - online and in your shop -, or if you want you can only sell one type of voucher:
Generic gift vouchers, for example, a $100 gift voucher that can be used to book any service. If a customer redeems a generic gift voucher and the full amount of the generic voucher is not used, the remainder will be credited to the account of the customer redeeming the voucher and will be used by Bookeo for any future booking. Click here for more information
Specific gift vouchers that can be used to book only a specific service. Click here for more information
---
How can customers purchase generic and specific gift vouchers online?
Once gift vouchers are enabled in your Bookeo account, a Gift voucher icon will show in the Launch bar at the top of the booking page. Customers can click on that icon to see available gift vouchers and purchase them.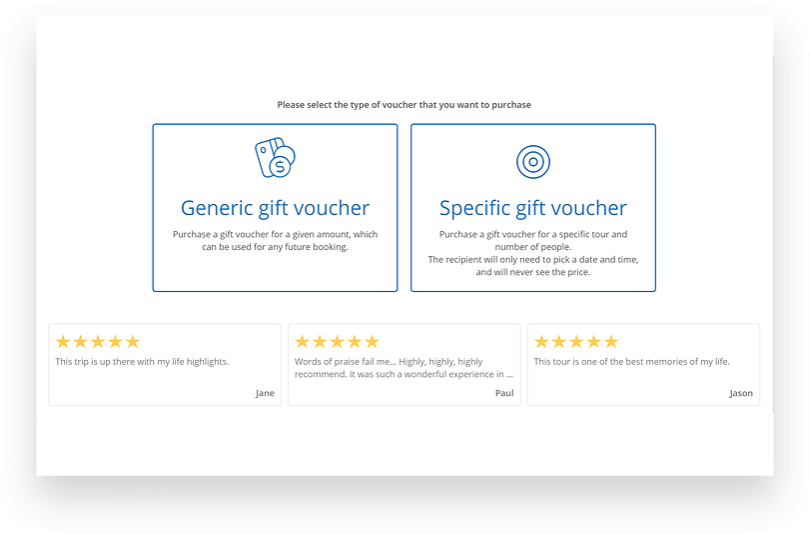 To give you maximum flexibility and customization in how you want to sell gift vouchers online, Bookeo offers additional ways to sell gift vouchers online:
you can integrate Buy now or Redeem buttons and links provided by Bookeo in Marketing>Gift vouchers on your website. Click here to see an example
you can integrate a gift voucher widget in a specific page of your website. Click here for more information
from the customer area