You can publish Customer Reviews with the Customer Reviews Widget on any page of your website.

The widget shows the review "Summary" with a link leading to the full review. Customers will be able to scroll through your published reviews.

You can customize the colors, size and language of the widget, and how many reviews to show at a time. You can also select the customer reviews that you want to publish, and the customer details that you want to be shown.
In this article:
---
Step 1 - Set up your Customer Review Widget
To set up your Customer Reviews Widget, in your Bookeo account

1. Click on Marketing>Reviews

2. Select Web site integration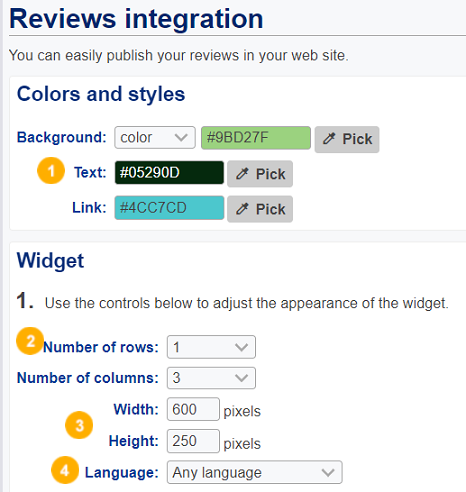 3. In the Colors and styles section, customize the color of the background, text, and link [1].

4. In the Widget section, select the number of rows and columns [2] of your widget.
Each "cell" will contain a review, so if you select 1 row and 3 columns, customers will see 3 reviews.
5. Select width and height [3] of your widget

6. From the Language [4] select if you want to get a widget for reviews in any language or in a specific language.

7. Click on the Test button to check the review widget settings, especially its dimension and colors.
---
Step 2 - Integrate the Customer Review Widget into your website
1. Copy the HTML code [5] for your widget, and paste into your web site. Please remember: you must paste it into the "HTML" or "source" code of the page.



2. Click OK to save the changes