A one-off fee per customer can be set up as a membership in your Bookeo account. Once you set up the one-off fee in your account, customers will be required to sign in or sign up as members to make a booking.
In this article:
---
Step 1 - Enable Memberships in your account
1. Go to Marketing>Memberships
2. In the Memberships section, tick the Enable Memberships checkbox
3.In the Access restrictions section, select the option Only members can make a booking
4.In the Enrollment section, select the option let people enroll by themselves
---
Step 2 - Set up a one-off fee per customer
1. In the Rates section, click on the New Rate button to create a new membership fee:
in the Payment mode [1] field, select: the customer pays once, upfront
in the Validity field [2], set a validity for this one-off fee. In the example below, we set 20 years.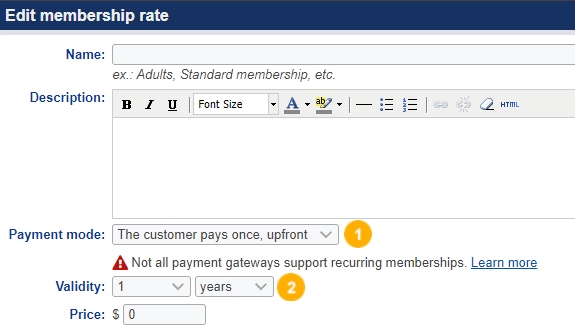 2. Save
3. Click on the Ok button