If you want to collect tips or donations online when customers make a booking, you should create an additional number option to your services.
1. To set up the number additional option:
In Bookeo Appointments, for

your Services, go to Settings> Services offered and additional options.

Go to the

Additional options

tab

your Workshops, go to Settings>Workshops. Click on a workshop.

Go to the

Options

tab

In Bookeo Classes and Courses: go to Settings>Classes, courses, events. Click on a class, course, event, or personal lesson. 

Go to the

Options

tab

In Bookeo Tours and Activities: go to Settings>Tours/activities.  Click on a tour/activity. 

Go to the

Options

tab

2. Click on the New option button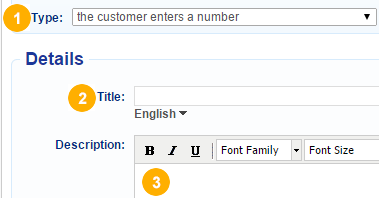 3. From the Type [1] scroll down menu, select the customer enters a number

4. In the Title [2] field input the name of the option, for example, "tip" or "donation" and its Description [3].

5. Input the minimum, maximum and default value [4]. The minimum and default value should be left as 0.

The maximum value is the maximum tip/donation you want to collect, for example, $20.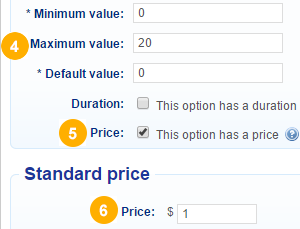 Please note; the 'Duration' field will be shown only if you are creating an option for a service in Bookeo Appointments, or for a personal lesson in Bookeo Classes and courses, or for an open schedule tour in Bookeo Tours and Activities.  If you see this choice, leave it blank as adding a tip/donation would not add to the duration of the booking.

6. Tick the Price [5] checkbox

7. In the Price [6] field, input a unit price, for example, $1. So if customers select a value of 5, they will donate $5.

8. (This applies only to services in a Bookeo Appointments account.  If you are using Bookeo Classes and Courses or Bookeo Tours and Activities, please go to step 9)
From the Enable  scroll down menu, select:
this option is enabled for every service, or
this option is only enabled for the following services.. and tick the services for which it is enabled.
9. Save