You can easily reschedule the time of a class, workshop or tour, even if there are existing bookings.
1. Go to your Calendar
2. Click on the class, workshop or tour.
3. Use the Time drop down arrow and select the new time from the scroll down menu.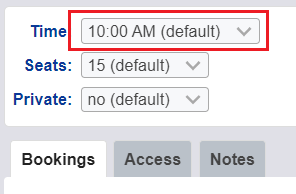 4. Save

If you reschedule a class, workshop, or tour, consider sending an email to inform all the participants that have already booked. Click
here
for more information.