You can upload an image for the main booking page and other images for the gallery and slideshow, for example, if you want to use an image with a specific size for the booking page.
1. Depending on the Bookeo product you are using:
In Bookeo Appointments, for

your services, go to

Settings>Services and additional options. Click on a service
your Workshops, go to

Settings>Workshops. Click on a workshop.

In Bookeo Classes and Courses: go to

Settings>Classes, courses, events. Click on a class.
In Bookeo Tours and Activities: go to

Settings>Tours/activities. Click on a tour.
2. Go to the General tab
3. In the Pictures and videos section, from the First image [1] dropdown menu, select use the first image for listing only. The first image is the first image on the left [2]. You can drag and drop images to change their order.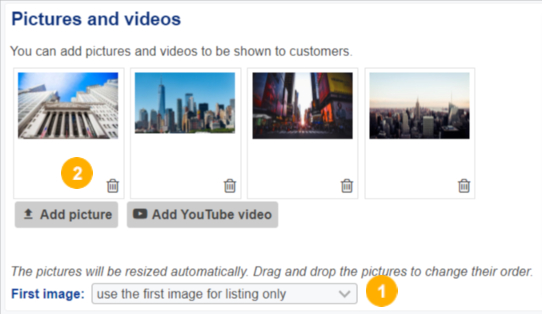 4. Save