An effective way to enhance the security of your login process is to provide an additional factor of authentication when you log into your Bookeo account. Having two or more authentication factors increases your cyber security.
Security experts call this Multi-Factor Authentication (MFA).
Turning on MFA adds authentication challenges to the Bookeo login process. You should make sure that you are prepared before enabling the MFA feature.
In this article:
---
Getting ready to enable MFA
To enable MFA, you will need an authenticator app.
Install an authenticator app
Install an authenticator app on your mobile device. An authenticator app generates a 6-digit PIN that you will need to provide when signing in, in addition to your pasword. There are many free authenticator apps on the market. You can search for authenticator apps on Google Play, Apple App Store, Microsoft Store, or online. Popular ones include Google Authenticator, Microsoft Authenticator, and Authy.
When you install an authenticator app, make sure that you follow its instructions carefully. Installing these third-party apps on your mobile devices falls outside the scope of Bookeo support, so we can't help you with any additional troubleshooting. After your app is downloaded and set up, you can activate the MFA feature in Bookeo.
Enable the backup functionality in your app
If you lose the device where you have installed your authenticator app, you may be unable to access your account. Therefore we strongly recommend enabling the backup functionality in your authenticator app.
---
Enable MFA
To enable MFA for your user account:
1. Click on the

icon in the top right corner of your dashboard, then on Your security
2. In the Multi-factor authentication section, click on the Enable [1] button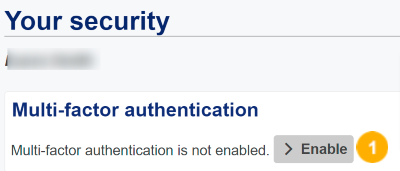 3. Carefully read the Terms of conditions[2] applying when you use the MFA feature, and tick the I agree [3] checkbox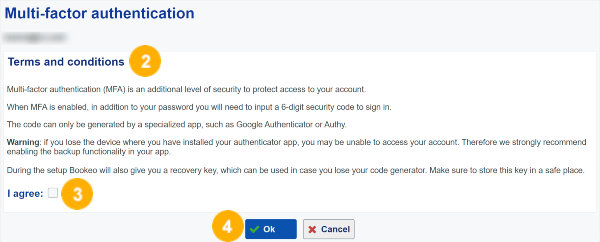 4. Click OK[4]
5. You will be prompted to input your Bookeo password to confirm that you want to enable the MFA feature. Input the password and click Ok.
6. Scan the QR code [6] provided in the Authenticator secret section with your authenticator app or manually copy & paste the secret code [7].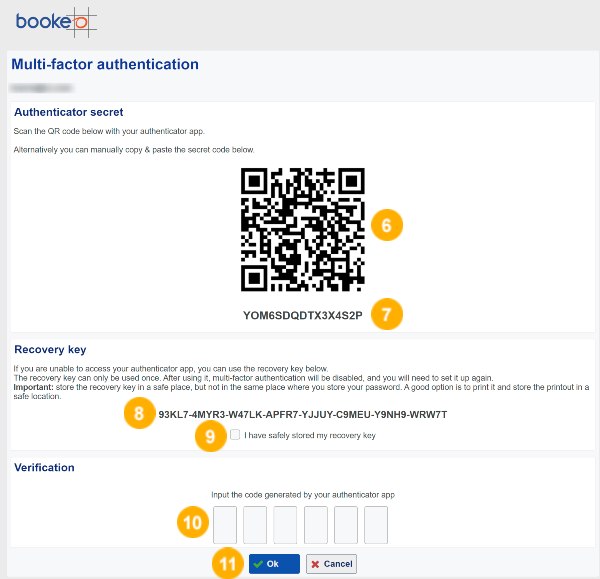 7. In the Recovery Key section, copy the recovery key[8] provided and print it or store it in a safe place, but not in the same place where you store your password.
8. Tick the I have safely stored my recovery key [9] checkbox to confirm that you have stored the recovery key in a safe place, but not in the same place where you store your password.
Copy/print and store your recovery key now
This is the only time that you will be able to copy/print your recovery key. If, in the future, you are unable to access your authenticator app, and can't find your recovery key:
if you are an account user

, you will have to reach out to the owner of your Bookeo account or to the super-managers to disable the MFA feature for your account.

if you are the account owner

, you will need to contact Bookeo support to undergo an identity verification process uniquely based on the credit card used to pay for the account subscription - no other identification methods will be accepted. This verification process will take some time and may not be successful. If you are the account owner, lose the authenticator device, lose your recovery key and we cannot identify you as the account owner, you will permanently lose access to your account. Therefore it is essential to safely store your recovery key.
9. In the Verification section, input the code[10] generated by your authenticator app.
10. Click Ok[11]
---
MFA sign-in account users flow
When MFA is enabled for an account, to sign into their Bookeo account, account users will have to:
1. Go to https://signin.bookeo.com
2. Input their username and password
3. Input the authenticator code[12] generated with their authenticator app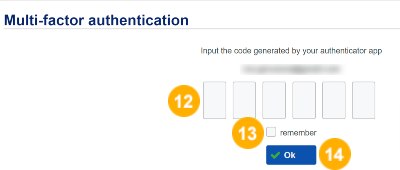 4. Optionally tick the remember13]checkbox to remember MFA authentication on the current device/browser. The account owner or super-managers can set how long the Multi-factor authentication will be remembered when selected.
5. Click OK[14]