A strong password can protect your account data from being accessed by unauthorized users and reduce the risk of your account being compromised. Account owners and super-managers can set the password security and expiration policy for a Bookeo account. The policy will apply to all its - current and future - account users:
1. Log into Bookeo as the account owner or as a super-manager
2. Click on the
icon in the top right corner of your dashboard
3. Click on Organization security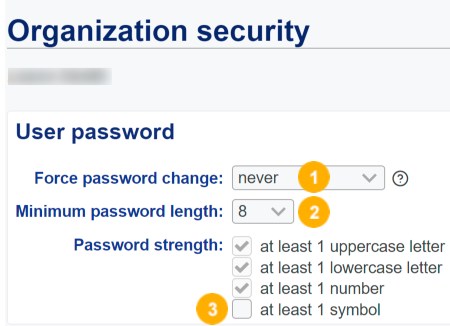 4. In the User password section:
from the Force password change [1] dropdown menu, select how often account users will have to change their password. The default value for all accounts is to never force account users to change their password.
from the Minimum password length [2] dropdown menu, select the minimum password length. Password length has been found to be a primary factor in characterizing password strength. The default minimum password length is 8.
5. If you want account users' passwords to include at least 1 symbol, tick the at least 1 symbol [3] checkbox.
Minimum password length and password strength settings will apply the next time account users set or change their password. Changing those settings does not force an immediate password change at logon.