With Bookeo, customers can make bookings directly from your Facebook business page when visiting it from a pc or mac. The Page Tabs feature is only available to Facebook Pages with 2000 or more likes.
Facebook does not allow external apps on mobile devices, therefore the Bookeo app will not show on your Facebook page when customers visit it using a mobile device. Click
here
to see a live example of the integration into a Facebook page.
1. Log into your Facebook personal account, not as your business/page.
2. In a separate tab of your browser, log into your Bookeo account
3. Go to Settings>Integrations
4. Click on Facebook
5. Click on the link [1] provided under set up instructions

If you are logged into your Facebook as your business page, the link will redirect you to a blank page. Please make sure that you are logged into your Facebook personal account, not as your business/page.
6. You will be asked if you want to add Bookeo to your Facebook page.
Click on Add Bookeo [2] to finalize the integration.
If you have multiple pages, Facebook will ask you to select which page [3] you want to install your app into.



7. Once you confirm, your Facebook page will load, and a new Book now [4] icon with the Bookeo logo will show. Click on it



8. A Bookeo login screen will appear. Input your Bookeo username and password, and click on Sign in.
9. After you sign in, customers will be able to book directly from your business Facebook page by clicking on the Book now button on the right end side of your timeline.
10. If you have installed many apps on your Facebook page, the Bookeo button may not be visible because other links are shown first. Click on More [5]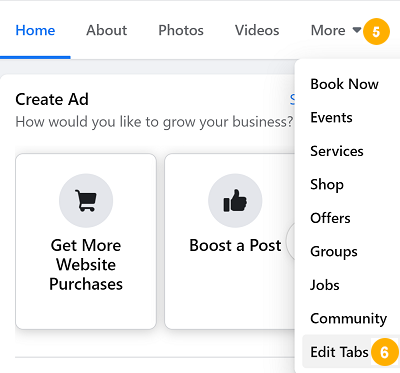 11. Click on Edit tabs [6]
12. Click and drag the Book Now [7] tab name to rearrange its order. The tab order also determines the order of the sections people see at the top of your Page.