All marketing gurus keep telling us that word of mouth is the best form of advertising there is... and it's free!
Bookeo lets you ask your customers to share their new appointment/booking with their friends, on Facebook and Twitter. Their friends see the post, click on the booking link, and they get straight to your site booking page. You can also give credits to customers that successfully refer other friends, and to their friend too.
In this article:
---
How to enable Viral Marketing
1. Go to Marketing>Viral marketing
2. Tick the Viral Marketing checkbox
3. Type a message for your customers, to invite them to post. You can also offer a reward every time a person makes a booking after clicking on the post. The reward amount will be added to the customer's credit.



4. Type a message for your customers' friends, to invite them to book. You can also select a promotion that will automatically apply if they make a booking. Click here for information on how to create a promotion in Bookeo.



---
What happens when customers make a booking and Viral Marketing is enabled?
At the end of the booking process (and in the booking confirmation and booking reminder email), customers are invited by Bookeo to share the booking with their friends, clicking on the Post on Facebook or on the Post on Twitter button. If a reward for customers that post is set in Viral marketing>Reward to customer, it will be automatically shown.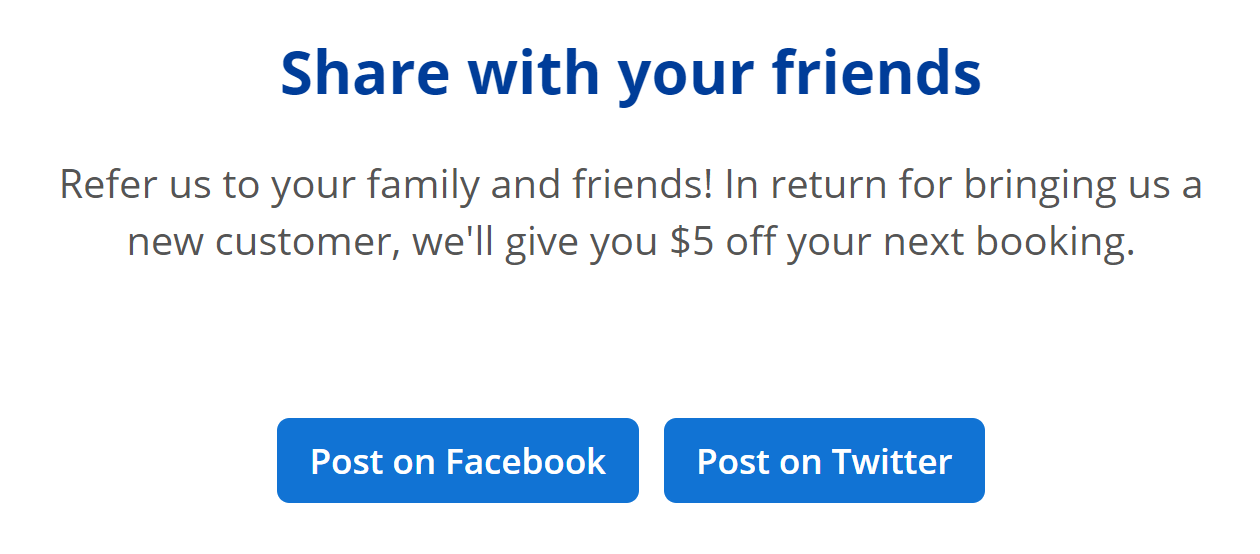 Click on the following links for information on what happens when customers post their booking on Facebook and on Twitter.