You can add multiple users to your Bookeo account, with different permissions and restrictions - for example your staff members so they can see their bookings.
Each account user can log into your Bookeo account with a unique username and password. All account users can be logged in at the same time. Account users can also sync their Bookeo calendar with their mobile calendar. Click here for more information.
In this article:
---
Add users to your account
In your account, you can set up:
1 account owner
The account owner can access all account settings
Account managers

Managers can manage most account settings, except for:

payment gateway settings

account subscriptions

If enabled, account managers can also create, delete and manage other account users and their permissions, but they can't assign Manager capabilities to a user.

Account users
Account users can have different permissions and restrictions.
The account owner and account managers - with permission to create, delete and manage other users - can add users to an account. To add an account user:
1. Click on the

icon in the top right corner of your dashboard, then on users.
2. Click on the New user button to create other users.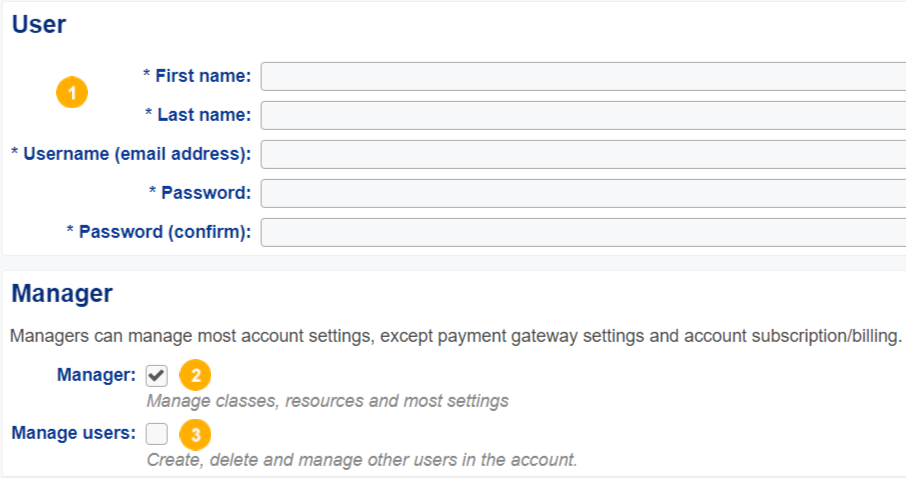 3. Input user's name, last name, email address (username) and password [1].
---
Set permissions and restrictions
4. Tick the Manager [2] checkbox if you want to set a user as Manager of your account. Account Managers can edit classes, services, tours, teachers, resources, consultants, schedules, and most settings.
5. Tick the Manage users [3] checkbox if the account manager can also create or delete other account users.
6. In the Permissions - Special operations section, tick the checkbox [4] next to the account settings that the Manager or the account user can access. You can use the Change all [5] scroll down menu to tick/unitck all of the checkboxes.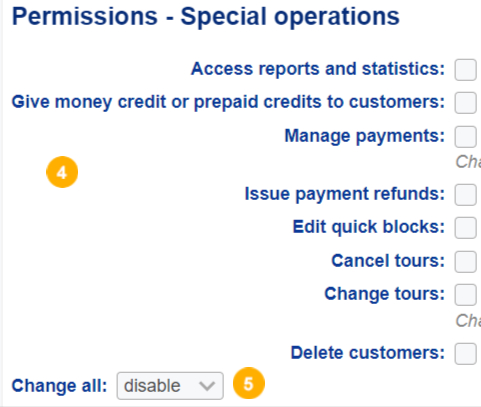 The Permissions - Special operations section will not show if the Manager can also manage other users, and the Manage users [3] checkbox was ticked as Managers who can manage other users will automatically have all permissions enabled.
7. In the Permissions section, you can set access restrictions to resources for all your users. An overview of the access levels is shown in the table below:
| User permissions | View resource schedule | View resource bookings | Create, change and delete bookings |
| --- | --- | --- | --- |
| No access | X | X | X |
| Read only | √ | √ | X |
| Write only | X | X | √ |
| Read and write | √ | √ | √ |
8. If you want to set identical permissions, select the access level from the Change all scroll down menu.
9. Save
---
Users's activity will be tracked by Bookeo
You will always know which user created, changed, or deleted a booking, class, tour or service.
a. In your Bookeo homepage, every message will include the name of the user who created, changed or deleted a booking

b. If you open a booking, the name of the user and the day and time of creation/change or deletion will show in the How section