It's very easy to integrate a Bookeo booking widget into your Wix web site.
In this article:
---
Step 1 - Set up the integration in Bookeo
1. in your Bookeo account, click on Settings>Web site integration

2. From the Page location [1] scroll down menu, select the option embed a widget in my web site
3. Copy the widget code shown in the Widget section at point #1 [2]
4. leave the browser window open and open a new tab in your browser
---
Step 2 - Set up the integration in Wix
1. Login to your Wix.com account, and create a new page or edit an existing page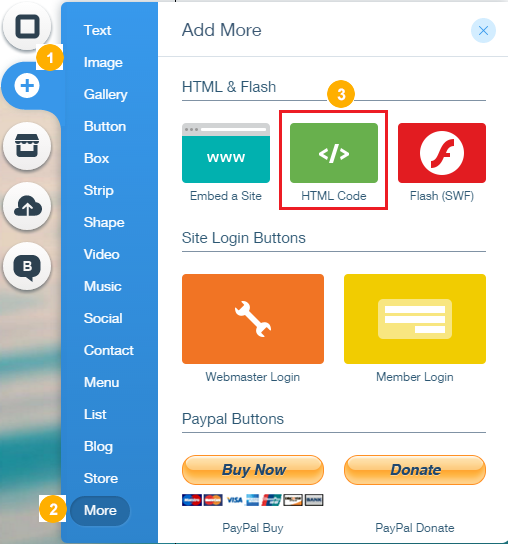 2. Select the Add [1] icon from the toolbar

3. Select More [2]

4. Select HTML Code [3]

5. A new grey rectangle will be added in your page. Use your mouse to place it in the page, and adjust its dimension.
Make sure to manually resize the HTML element (rectangle)
Due to Wix.com limitations, the Bookeo widget cannot auto-resize automatically to adjust to the content of the booking area - as it on non-Wix web sites.
Therefore, please make sure to manually resize the rectangle so that its height can contain your booking interface at every step of the booking process. If not enough height is set for the rectangle, then inner scrollbars will appear in the page during the booking process.
6. Click on the grey rectangle, and settings buttons will pop up. Click on Enter Code



7. Select that you want to add a Code, and paste the widget code copied at step 3 below the text Add your code here (HTTPS only) [4]. The Bookeo widget is always https and this is why it will be displayed on your live Wix site.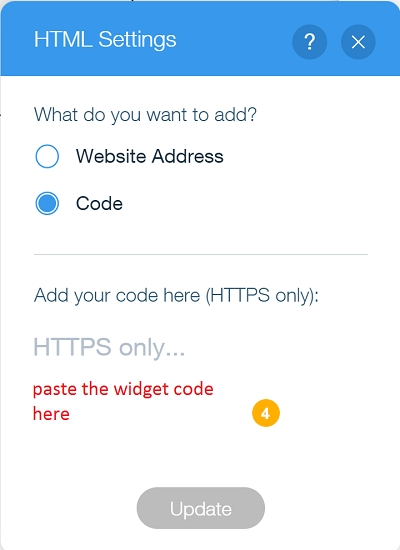 8. Click on Update in the settings window

9. click on Publish to publish your updated web site

10. Copy the address of your Wix.com page where you've put the widget
---
Step 3 - Set up the URL of your booking page in Bookeo
1. In your Bookeo account, click on Settings>Web site integration.
2. In the Widget section #2, paste the URL of the webpage where you put the widget [3] (the booking page in your website)
3. Save
Widget integration on mobile devices
When customers visit your booking page using a mobile device, Bookeo will display a
Book Now
button that website visitors have to click to see the Bookeo booking page. The Book Now button can be customized. Click
here
for more information.
The website must be accessible
Bookeo will check for the presence of the widget code in your website and it will not save the changes if it cannot find the widget code. If you want to integrate Bookeo into a website that is not accessible, please email our Support Team at
support@bookeo.com
and they will be able to assist you.