Bookeo integrates with MailChimp for all your mailing list needs. MailChimp is probably the most popular email marketing service available today.

MailChimp offers advanced mailing list management, with colors and graphics, statistics, and reports. If you do not have a Mailchimp account, click here to sign up.
To create marketing campaigns in Bookeo, you have to enable the integration with MailChimp.
In this article:
---
Integrate your MailChimp account with your Bookeo account
To set up the integration with Mailchimp, in your Bookeo account:
1. Go to Settings>Integration.
2. Click on MailChimp
3. Click the Enable MailChimp integration checkbox [1]. If you:



- Already have a Mailchimp account, click on the Connect to Mailchimp [2] button
- Do not have a Mailchimp account, click on the Signup for a Mailchimp account button [3]
click on the Signup free button
complete the signup form, verify your email address and confirm the sign up with Mailchimp
When you have successfully set up your Mailchimp account, create your lists.

Click on the link for information on

how to create lists in MailChimp

.

You can also import your customers' list directly in your MailChimp list, following MailChimp's guidelines

go back to your Bookeo account and click on the

Connect to Mailchimp [2]

button
4. To connect your Bookeo account with your Mailchimp account, input your Mailchimp username and your Mailchimp password
MailChimp username
The MailChimp username is the username and not the email address you used to sign up for your MailChimp account. If you forgot your Maichimp username, click
here
to retrieve it.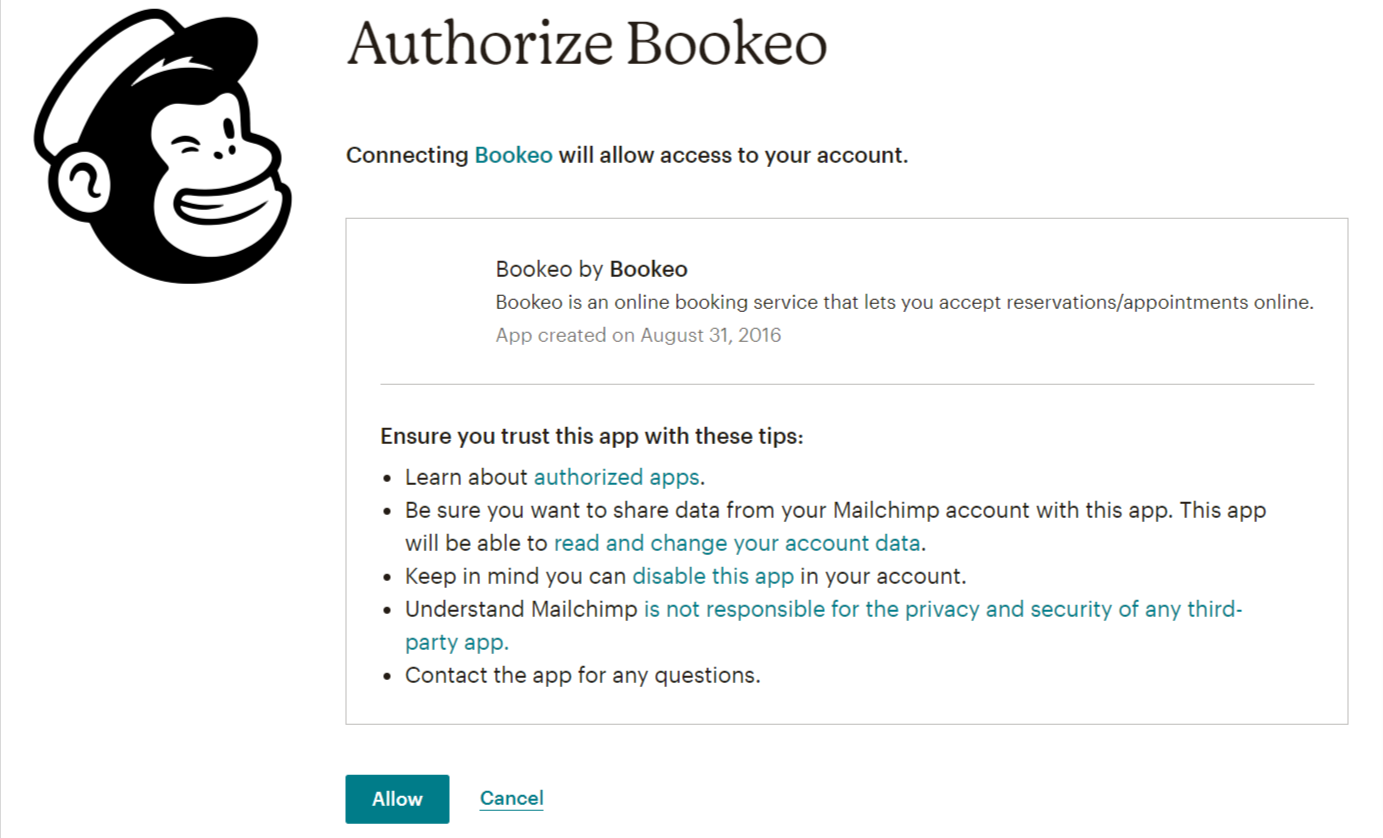 5. You will be redirected to your Bookeo account, and you will see the Mailchimp account [4] username connected to your Bookeo account.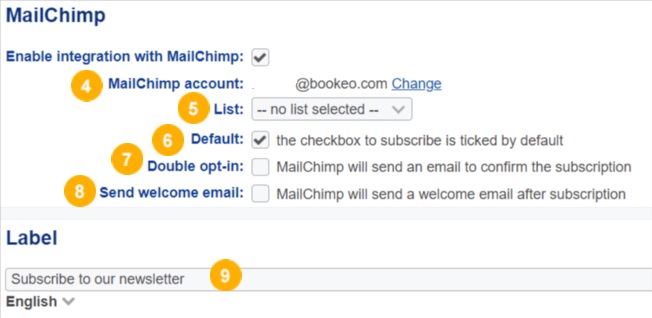 6. From the List [5] scroll down menu, select the Mailchimp list to which you want to send marketing campaigns and newsletters from Bookeo. If you haven't created a list yet, click on the link for information on how to create lists in MailChimp.
7. Tick the Default [6] checkbox if you do not require customers to explicitly agree to receive your newsletter.
8. Tick the Double Opt-in checkbox [7] if you want to enable it. If this option is enabled customers are not subscribed immediately. Instead, MailChimp will email them asking to confirm their subscription. Click on the link for more information on how double opt-in works.
9. Tick the Send welcome email checkbox [8] if you want to enable it.
10. In the Label [9] section, input the checkbox text that your customers will have to tick if they want to be included in your mailing list. When new customers make a booking, they will be asked if they want to receive your newsletters. If they agree, they will be automatically imported into your mailing list.
11. Click OK
---
Will Mailchimp import my existing customers database from Bookeo?
When you enable the MailChimp integration Bookeo does not send your existing customer list to MailChimp, because you may not have their permission.
However, you can import that list directly in your MailChimp list, making sure you follow MailChimp's guidelines explained at http://kb.mailchimp.com/lists/growth/best-practices-for-lists
To export customers from your Bookeo account:
1. Click on Customers
2. Click on the Export button. Select Export to Microsoft Outlook, which MailChimp can import directly.
---
How can I target specific subscribers in my MailChimp list?
In MailChimp you can add tags to contacts and create a segment to target specific subscribers in your list. The segments you create can be used to send targeted campaigns as well as saved for future use in your account.
You can use Bookeo's reports to get email addresses that you want to tag to create a segment. For example, you can generate a report in Bookeo, in Marketing>Reports>Bookings to get a list of customers who signed up for a specific class. You can then import the file into MailChimp and add a tag to those contacts, so you can create an audience segment.