With Bookeo Appointments you can offer services in multiple locations, performed by different consultants in each location.
For example, if you have 2 studios, one in Manhattan and another one in Soho, and your Consultant 1 and 2 work in Manhattan and Consultant 3 and 4 in Soho, you can ask your customers to select a location when they make a booking - as shown in the screenshot below.

Create an option for your locations
You can create and define your locations now if you haven't done it yet (create locations, description, picture, availability, etc.). Click here for more information.
Once your locations are set up:

1. Go to Settings>Services offered and additional options
2. Go to the Additional options tab
3. Click on the New option button to create an option for your locations
4. From the Type drop-down menu, select the customer picks one of available choices
5. Input a name, for example, city, studio, etc. and a description (optional). Do NOT tick the Duration checkbox.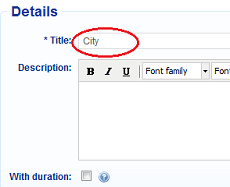 6. In the Choices section, click on the New Choice button to create your locations.
7. Input a name, for example, Manhattan, and a description, that could be the address.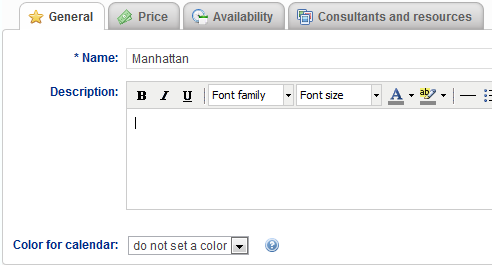 8. Go to the Availability tab to set the availability of this location.
a. General availability
From the scroll down menu, set
available hours as the same availability as the hours of the business (set in Settings>Time settings)

or use a specific schedule for this location, for each day of the week. In the screenshot below, the location is available on Monday and Tuesday, from 9am to 6am.

b. Special availability, restricted availability or unavailability
you can define special time slots during which this location is available. This is useful, for example, to set the resource as available on specific dates, or occasionally at night, besides the general availability.

you can set a restricted availability (i.e. only in December) or when this resource is NOT available (for locations, it could be not available for renovations...)

More information on how to create a new period for "Special available time slots" and "Availability".
9. Go to the Resources tab and from the Resources scroll down menu select this choice is only available with the selected resources, and tick the consultants working in this location. In the example below, Angela Walls and Laura Logan work in the selected location.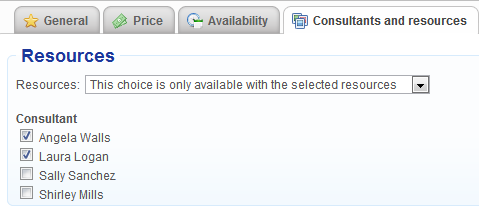 10. Save and repeat instructions for your other locations.