With Bookeo you can sell your tours and activities on GetYourGuide (GYG), an online marketplace where people can find, compare, and book sightseeing tours, excursions, things to do and fun activities from around the world.
If you do not have an account with GetYourGuide, click here to learn how you can sell your products on GetYourGuide and click here to sign up as a supplier.
In this article:
---
Enable the integration with GetYourGuide
In your Bookeo Tours and Activities account:

1. Go to Marketing>Distribution channels

2. Click on GetYourGuide

3. Tick the Enable [1] checkbox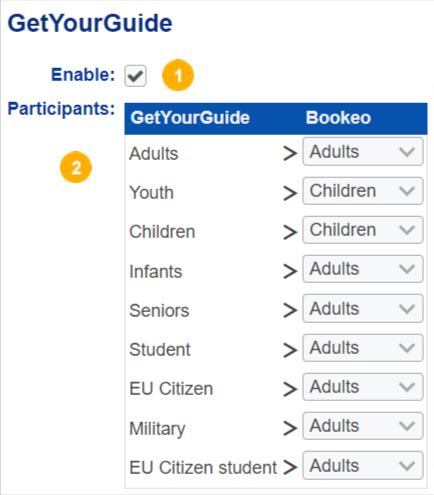 4. GetYourGuide uses 9 fixed categories of people in its reservations. In the Participants [2] section, you can set to which categories they correspond in Bookeo.

4. To map your Bookeo tours to your GYG tours, in the Products section, click on the New [3] button 



5. From the Tour [4] drop-down menu, select the tour 
How to map a single tour in Bookeo to multiple products in GYG
Sometimes you have a tour set up in Bookeo, but have two different products corresponding to it in GYG. For example, you offer a guided tour in two languages, and in Bookeo you have set up one tour with a drop-down additional option to let customers select the language, but in GYG you have two separate products, one for each language. In this case, you can map two product IDs in Bookeo, by selecting the
Option [7]
and
Choice [8] 
corresponding to the specific tour in GYG. 

If you do not need to map a GYG product to a specific option in Bookeo, you should leave the default choice
no additional option [9].                                                                                                       

6. Click on the Copy [5] button to copy the tour ID that you will have to paste into your GYG Supplier Administration account, following the instructions in the GYG tutorial here: https://supplier-support.getyourguide.com/support/solutions/articles/15000028962-connecting-via-api

7. Click OK [6] to save
Tour booking limits
GetYourGuide will only move forward with connecting via API if the maximum 
booking limits
of your tours in Bookeo are equivalent or lower than the cut-off time listed for the product on GYG. GYG
 accepts a maximum cutoff of 10 hours. You can learn more about GYG cut-off time here 
---
Open schedule tours
Open schedule tours are not supported by GYG. 
---
Pricing
The integration is included in the monthly subscription of your Bookeo Tours and Activities account. The integration is specific to Bookeo Tours and Activities. It is not available for Bookeo Appointments or Bookeo Classes and Courses. Bookeo will not charge any commission on bookings made through GetYourGuide, but GetYourGuide may apply its own fees.
---
Changes to your tours/activities
Once connected, we strongly recommend that you reach out to your GetYourGuide Account Manager directly if you change your tours/activities - for example, if you change your tour schedule and availability - since this could possibly break the mapping and cause bookings to fail.