Open schedule tours/charters let customers choose the start time among a restricted availability set by you. For example, you can set that the open schedule tour/charter is available on Monday, Tuesday and Thursday from 9am to 6pm, and customers can decide to start the tour at 11am.
If you want to set up an Open schedule tour/charter
1. Go to Settings>Tours/Activities
2. Click on the New button, then on Open schedule tour/appointment. You will complete a quick set up wizard, and will be able to define more details later.
3. Input the Name [1] of the Open schedule tour If you have already created categories, from the Category [2] scroll down menu, select the category this tour belongs to.
4. Input a Description [3] of the Open schedule tour. You can also create New information sections [4] (such as "What to bring", "More info" and so on).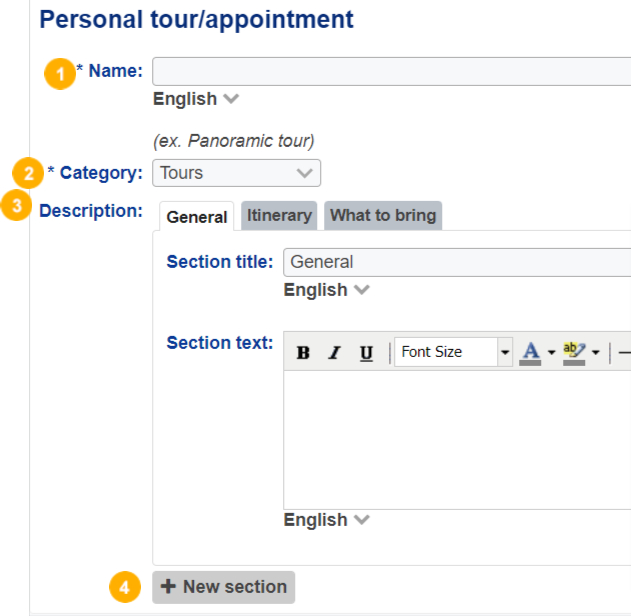 5. In the Schedule section, select the Duration [5] of the Open schedule tour/appointment.



6. Click on the green + icon to set the availability of your Open schedule tour/appointment for each day of the week.
In the pop-up window that will open set the Interval [7] between start time and end time. The Open schedule tour/appointment can have different intervals for each schedule.
7. Input how many people a booking can be for.



8. In the Standard price section, set the tour Price per person [8]. If you offer special prices for members, you can tick the Enable member prices [9] checkbox to set a member price.


9. In the Image section, click on the Upload[10] button to upload an image for your tour. When you finish the set up wizard, you will also be able to upload a gallery of Images and videos.

11. Save