You can customize the colors of email messages sent by Bookeo to your customers and account users, to match your branding, website, and logo.
In this article:
---
Customize the email colors
To customize the email colors:
1. Go to Settings>Colors and styles
2. Click on the Email tab.
3. In the Colors section, from the Predefined theme [2] dropdown menu, you can select one of the predefined themes.
4. All the email colors listed below the Predefined theme dropdown menu - Titles[3], Summary Background[4] and Buttons[5] - will automatically show the set colors for that theme. Select the theme that most closely matches your brand. If needed, you can use the color pickers to change some of the colors.
Summary Background color
For best results, a neutral color should be set for Summary Background, so that it can work nicely with any photos you may upload for your services.

5. To test the colors, click on the Test email[7] button.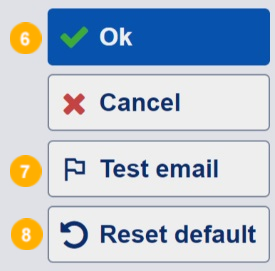 6. If you are happy with the color theme, click on the Ok[6] button. If you click on the Ok[6] button, your new settings will take effect immediately.
Emails rendering may vary across email clients
Some email clients - for example, the Yahoo mail app for Android - may display emails with no colors or icons.
---
Restore the default color style options
To restore the initial default color style options:
1. Click on the Reset default[8] button.
2. Click on the Ok[6] button.
---
Switch back to the classic email format
To switch back to the old email format:
1. Go to Settings>Colors and styles
2. Click on the Email tab.
3. In the Style section, select classic [1]
4. Click OK
Changes to the email format will apply to any email sent after the change.
NB. The classic format will no longer be available after July 15, 2022. On that date, the modern format will become the default.